What Is Call Break?
Call Break (कॉल ब्रेक गेम) is a variant of trick-taking spade games. This tas game is popular in Nepal, India, Bangladesh, and Bhutan. Like other spade card games, a spade card always trumps all other cards.
Four players bid for points and compete against each other in a call break game. It is a strategy game that requires tricks, card tracking, coordination, and strategic bidding.
In our multiplayer mode, you can play with Facebook friends, by creating a private server and as solo as well, in the offline mode.
---
About Our Callbreak Multiplayer Card Game
First of all, thank you for downloading the Call Break Multiplayer android app. Your continuous support has made us one of the best free card games in the Google Play store.
The highly engaged user base has encouraged us to make our game more entertaining and interactive.
Since the launch of offline single player games in 2014, we have been frequently updating our app.
Today, we provide you with the most Intelligent bots ever.
Our android app has an intuitive UI. This means, even as a newbie, you can have fun while getting better with every game.
The multiplayer mode on the app allows you to play with 3 other real players. So, you can spend time with your family or close friends while playing a mobile game.
Plus, our highly secure code and smart algorithm keep cheaters away. It's always a fair game with our call break mobile app. Our hacker-proof algorithm is one of the reasons why we have over 100k active users.
Therefore, if you are into card games, we highly recommend you to try our Call Break card game.
---
How To Play Call Break Cards Game – The Basic Technique
Callbreak tas game is normally played with four players with a standard 52-card pack.
It is usually played for 5 rounds. The player that gets the highest points after 5 rounds is declared the winner.
Game starts with one of the players distributing the cards one at a time. When all the players receive 13 cards each, players call their game point (1-12). The game is played in an anti-clockwise direction till no one has any card left on their hand.
After a round finishes, the players receive the points based on their initial call.
If they scored less than their call, they get a negative point worth their call. If they score more points than their initial bet, the extra points are added as decimal points.
We have explained the full rules and gameplay details in another post — how to play call break. Please go through it if you want to be an expert.
Otherwise, download our call break game apps and just start playing the game a few times, and you will get the hang of it.
You know, they say, practice makes you perfect.
What Are The Rules Of A Call Break Game
Call break is a simple game to play. However, there are a few rules that you should know in advance. Once you get habituated, the rules are pretty straightforward.
The cards are distributed in a clockwise direction. However, in Nepal and few regions of India, the game is played counter clockwise.
The first call should be done by the player on the left-hand side of the dealer. The dealer gets an advantage of calling at last.
Each player must call at least 1 point. The cards are redistributed if the total call is less than 8. Also, in some regions, if anyone doesn't receive any face card, the cards should be redealt.
After everyone makes their call, the player sitting right to the dealer places the first bet by throwing any card of his choice. The corresponding players must throw the highest card, of the same suit, than the previous player. If you don't have a higher card, you can throw a smaller card . If someone doesn't have the card of the same suit, they can throw any trump cards. A spade card of any value wins the trick against cards of any other suits. If one doesn't have trump cards either, they can throw a card of any suit. A set is won by the highest value card.
If the player scores less than his call, they receive a negative score. If they score more than their call, the extra point is added as a decimal point — an extra point receives a 0.1 score.
"GOOD GAME One may get addict to this game but he can quit the game in any condition. The best thing is you don't have any target, no time limit, and you don't have the worst one "stages"
"Best call break game ever ..it's really cool game to be played not only by teens but also different age group ..A big thumbs up for the new updated version ..this game is awesome "
"I am great card game fan and I got recommendation for this game. I played this game on my friends phone finally downloading in my own mobile cheers call break card game"
Online Callbreak Multiplayer Card Game Walk-through Video
Here's a complete video guide on how to play our call break game by one of our regular player. You can watch more game play videos here.
Major Features Of Our Call Break Game​
Data-Backed Balanced Algorithm
Easy-to-play and Interactive UI
Multiplayer Mode
Built-in Mini Games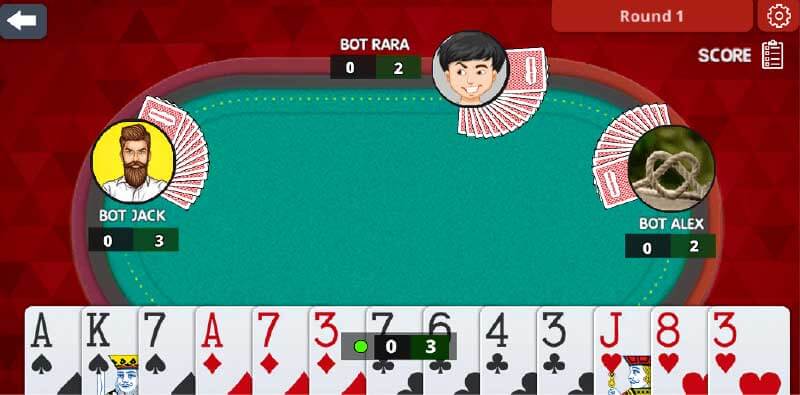 How to Download Call Break Multiplayer Apk For Free
You can download our card game for free on your android phone. You can also download call break multiplayer apk from websites like apkpure.
If you don't want to download it, you can play call break for pc on your browser as well.
However, the web version doesn't support multiplayer mode. You can only play single player game. The mini games are also not included in the browser version.
To enjoy the full features, we recommend you to download it on your mobile phone.
The game can be downloaded for free for android.
---
Callbreak FAQ's
Which Android version do I need to download Call Break Multiplayer?
The game requires at least Android Jelly Bean (4.1). So, even your old phone can run the android card game smoothly. However, you will get the best experience with Android 5 and up.
How much phone memory do I need?
You only need 28MB of free space on your phone to run this free card game.
How do I play the multiplayer mode?
To play the multiplayer mode, you need to connect your game to your Facebook account. Once connected, you will be able to play with your Facebook friends. You can also create your own server room to play with your friends.
Do I need an Internet connection to play the game?
No. Once you download the game on your phone, you can play the single player mode offline as well. However, you need to connect to your WiFi or Mobile Data to play the Multiplayer mode.
What happens if I don't update the game?
We try to release the best version with every update. Every new version receives minor bug fixes and sometimes mega algorithm changes. So, although you can play the game without any issue, updating it will give you plus points– sometimes new seasonal themes as well.
Features That Are Coming Soon
We will be soon introducing new card sets, Bluetooth mode, new table, and completely new AI bots in our future version. Our AI is getting smarter every day so tune in for updates and a revolutionary call break play.
Also, we are also working on virtual coins that you can trade in-game for wide varieties of themes and skins. You will be able to donate the coins to your friends as well.
Alternative Local Names of Call Break
Call break is also called Call Bridge in some countries. Since it is a variation of trick-taking Spade Card Game, in western countries, it can also be referred as Asian Spade Game. In certain parts of India, the game goes with names like Lakdi, Lakadi, or Locha.
Got Questions?
Do you have any queries about our app? Or, got some suggestions for us? Or, would like to request a feature? Fill in the form below!